The mystery of a missing Swiss couple seems to have been solved. Or has it? The Guardian reported it as follows:
The frozen bodies of a Swiss couple who went missing 75 years ago in the Alps have been found on a shrinking glacier, Swiss media said.
Marcelin and Francine Dumoulin, the parents of seven children, had gone to milk their cows in a meadow above Chandolin in the Valais canton on 15 August 1942.
"We spent our whole lives looking for them, without stopping. We thought that we could give them the funeral they deserved one day," their youngest daughter, Marceline Udry-Dumoulin, 75, told the Lausanne daily Le Matin.
"I can say that after 75 years of waiting this news gives me a deep sense of calm."
Valais cantonal police said two bodies bearing identity papers had been discovered last week by a worker on Tsanfleuron glacier near a ski lift above Les Diablerets resort at an altitude of 2,615 metres (8,600ft).
The Guardian conveniently posts a picture of the Swiss ski resort, Chandolin: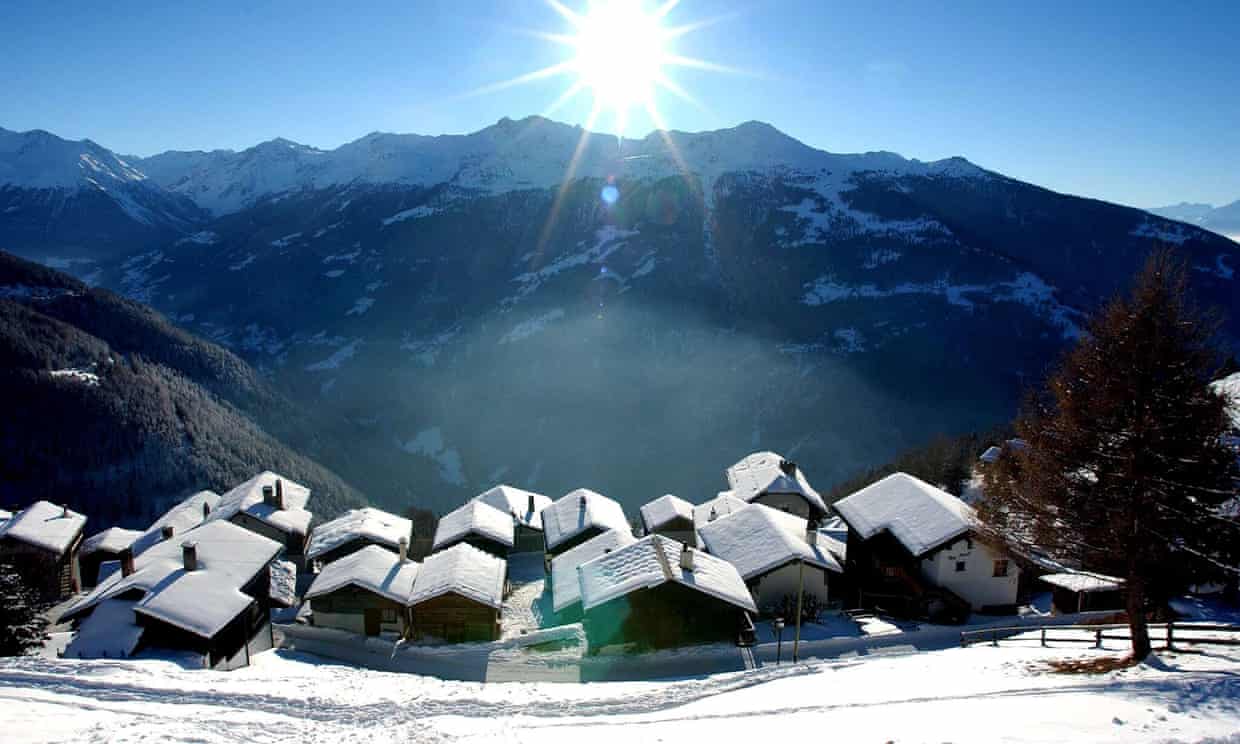 A truly tragic mystery finally solved. But wait a minute…
Apparently they went for a walk from the ski resort Chandolin in Valais and were found above Les Diablerets near the Glacier3000 ski resort. Now Wikipedia tells me that is a 25 hour hike, mostly along the Rhone valley (which would need to be crossed). Why would the couple have walked so far?
The answer is rather prosaic. They didn't head out from the village of Chandolin in Val D'Anniviers, but the village of Chandolin-près-Savièse, just above Sion and opposite Nendaz. A minor oversight by all the English-speaking newspapers who either didn't bother to check the location or didn't care, but it would have confused anyone who knew the better known ski resort of Chandolin (together with St-Luc, making up one of my favourite ski areas).
Why would the couple, make the significant ascent to the glacier, some 2615m high? Many newspapers reported that Marcelin and Francine Dumoulin had vanished after going to milk their cows in a meadow above their home. Whilst the glacier lies in the same municipality, Savièse, it doesn't explain how they ended up on the glacier. Cows don't graze on or anywhere near glaciers.
The Local, an English-language Swiss-based news web site, offers an explanation:
Dumoulin, then 40, and his 37-year-old wife had left their home that morning hoping to check on their cattle, which were being kept in an alpine pasture in neighbouring Bern canton.
The fastest route at the time was via a glacier footpath. The sky was clear when the couple set out, but clouds later worsened visibility and the couple vanished, likely after falling into a crevasse, orphaning five sons and two daughters. Shrinking glaciers are slowly uncovering the bodies of several hundred people known to have disappeared on or near glaciers in the Alps, many after tumbling down a crevasse.
"I saw them leave that Saturday morning," recalled Monique Gautschy, one of the surviving children who was 11 years old at the time. "They were supposed to spend the night in the alpine pasture at Grilden and come back on Sunday."
After two months of fruitless searching for the couple, the seven children, then aged 2 to 13, were placed in foster care.
Apparently Madame Dumoulin was making the trip with her husband for the first time. She was reportedly almost always pregnant or nursing. With seven children at home, one assumes they got little privacy. Perhaps the explanation for their joint ascent and planned overnight stop was a romantic encounter under the stars?
We shall never know.