On 22nd January, in London, Christie's holds its annual "Ski Sale", an auction featuring a selection of posters depicting winter sports and, through them, the development of skiing in the Alps. The auction features almost 250 posters, and the expected bid prices are generally somewhere in the range $1000 to $20,000 or more.


The prices are eye-watering for what were originally posters intended to entice people to exotic locations, pasted up on hoardings only to be pasted over some weeks or days later. Not surprisingly few survived, and those that did are collectible, even valuable. To an expert, such as those at the famous Galerie 123 in Geneva the difference between an original, or even a reprint from a later run, are easily distinguishable from the cheaper copies that are available now – but those cheaper copies retail for a fraction of price of the original lithographs and are of high, or even higher, reproduction standards. If you want something to adorn a wall, the copies are fine, but the originals not only embody the history of an era and demonstrate painstaking skill, they are generally of appreciating value. Most of the early posters used a laborious craft known as stone lithography, but between the 30s and 50s this mostly gave way to offset lithography and, for some photographs used in posters to a technique known as heliography. Nowadays most high quality posters use screen printing.
One of the most famous early examples of stone lithography was Emil Cardinaux's classic 1908 lithograph of the Matterhorn, advertising Zermatt. The impact of the design was immense, redefining the style of many posters for distant holidays.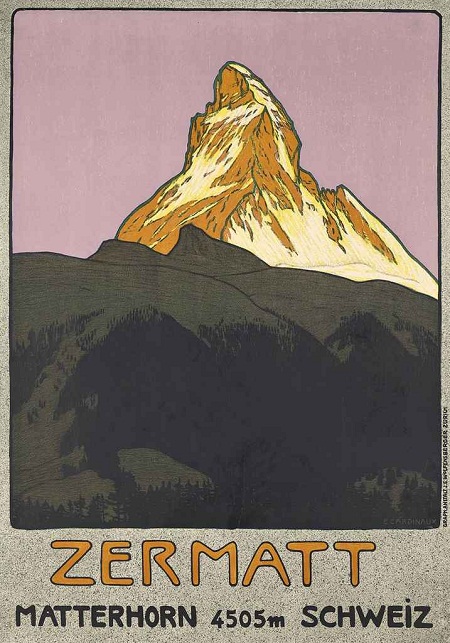 Many of the posters were commissioned by travel companies, and particularly the energetic and innovative Swiss transport companies such as MOB (Montreux–Oberland Bernois railway). This 1946 offset lithograph by Martin Peikert is a superb example with its vivid design and stylish model.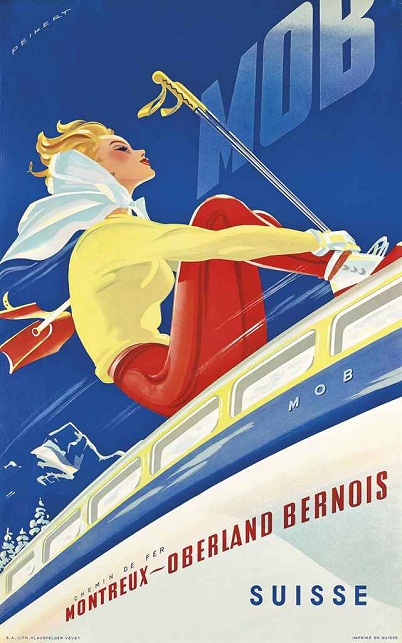 Not in the auction, but illustrating well another source of great winter sports poster art, is this picture provided by Galerie 123 of the Royal Hotel & Winter Palace in Gstaad, attributed to Carlo Pellegrini in 1913 to celebrate the opening of the hotel and to illustrate that skiing wasn't the only winter sport on offer, with bob-sleighing and curling amongst the many alternative activities.


A fine example of the use of heliography and phoro montage is this 1943 poster advertising Grindelwald by Adolphe Fluckiger.


An interesting poster by Albert Muret from 1910 from the collection of Gallerie 123 shows the monks of Hospice du Grand Saint-Bernard in Valais skiing. The monks had been skiing since the 1870s, but this stone lithograph celebrated the opening of a new railway line. However it illustrates that early downhill skiing only involved a single stick, a feature of many early posters.


Finally, one of my favourite posters, from one of my favourite poster artists of the golden age of winter sports posters, Roger Broders. The vivid Art Deco lithograph from around 1930 promotes winter sports in the French Alps, with skiers disembarking from the train running from Paris and Lyon to the Med. The individuals are insouciant and stylish. The enticement is clear – under a blue sky, a train taking you right to the slopes of St Gervais from your dreary winter lives, into the mountains, in the company of cool people with the prospect of a ski run ahead…